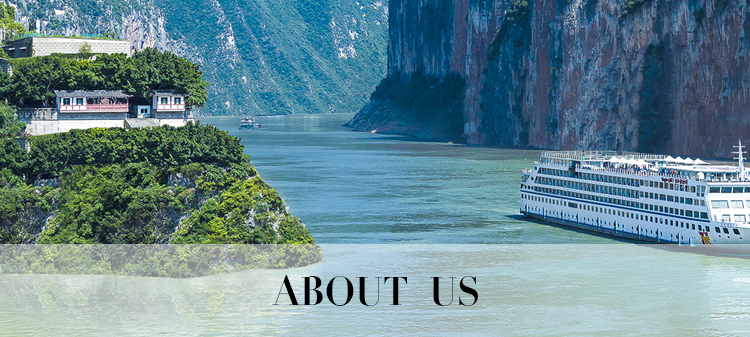 WELCOME TO YANGTZE GOLD CRUISES
We are ushering in a new era of inland river cruising by taking the innovative thinking behind our award-winning river cruises and bringing it to the epic setting of the Yangtze River.There is always something indicating the coming of a great era.The appearance of the Yangtze Gold Cruises changed the world's inland river cruise industry revolutionarilyThe Yangtze Gold Cruises has set world records as the world's largest inland river ship with the largest number of sightseeing elevators as well as a breath-taking central pedestrian street and 5-star hotel arrangements in all rooms.
The Yangtze Gold Cruise Series are designed and built according to the "Star Division and Evaluation Standard of Inland Cruise Ships" published by The National Tourism Administration in 2008. The Yangtze Gold Cruise Series boasts the most unique characteristics of any cruiser on the Yangtze River. They are designed with advanced international concepts and technology to ocean cruise standards, including helicopter apron, large two-tier Movie Theater, a hydraulic pressure lifting chimney and retractable sunshades. The other features of the Yangtze Gold Cruises are children's playground, golf course, billiards etc. Yangtze Gold Cruises has surpassed the ordinary and introduced luxury to Three Gorges. By virtue of this, let the world pay attention to the Three Gorges, they are worth remembering forever.
VIDEO INTRODUCTION
Click To Watch
MORE
MORE
OUR FLEET
Your mostincredible Yangtze River Vacation
Yangtze Gold Cruises form the fifth-generation luxury cruise-fleet established by Chongqing Tourism Investment Group Co., Ltd. from 2011 to 2013.The fleet consist of 7 cruises and the total investment of each is 130 to 180 million yuan. In length, the cruises range from 136 to 149.98 meters; in width, 19.6 to 24 meters; and in total tonnage, 12,000 to 17,000 tons. Each of them has 158 to 216 rooms with a maximum capacity of 350 to 570 passengers. Their interior decoration is different from each other with modern, business, fashionable, Chinese, simplified European, Southeast Asian and North American style to choose from. To improve its sightseeing tours and provide vacation tours, they have been upgraded in hardware facilities and functional layout: there are over 70 areas to meet people's needs, such as hollow-structured commercial pedestrian streets covering over 800 m², helipads, mini-golf courses, and constant-temperature swimming pools. Each and every cruise has met the national standard of the five-star cruise and is allowed to navigate. Besides, the company has obtained patents for its appearance design of cruise, hydraulic lift chimneys, and hydraulic lift tension tents.
Won

China Tourism General Rating List

Best inland cruise ship brand

2017

Chinese Media Consortim

Popular with tourists

Won

Star-Rated River Cruise China

★★★★★

2015

Chongqing Tourism Association

Satisfied with integrity